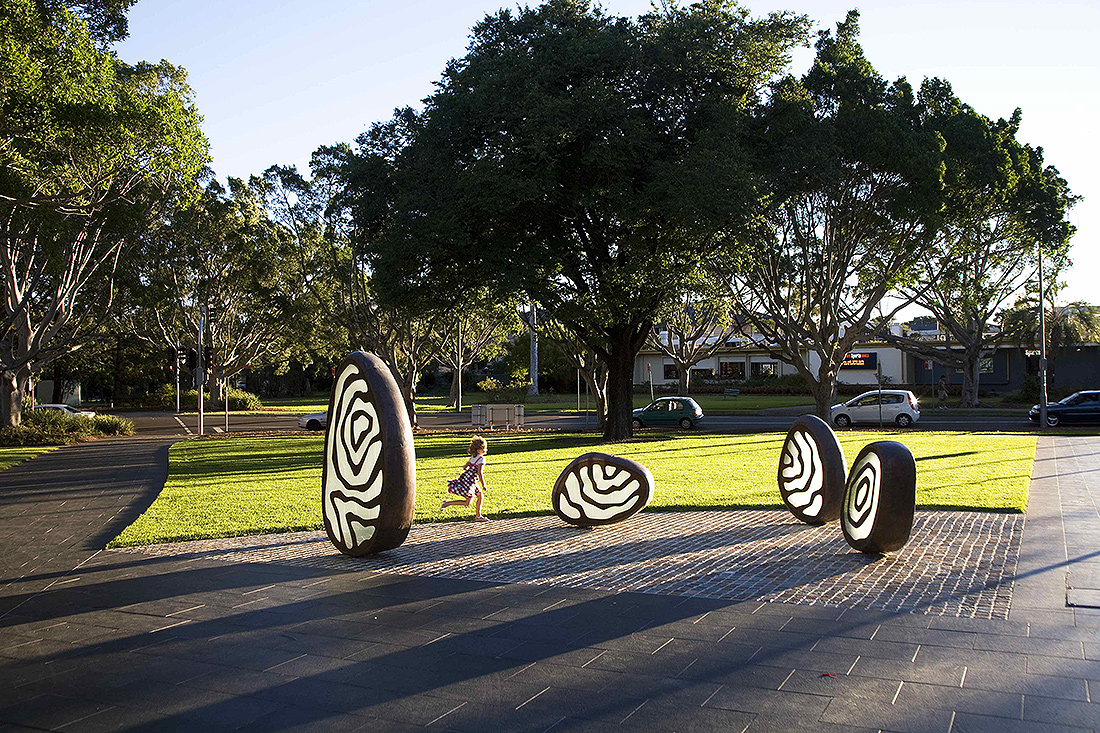 Jane Cavanough
Artlandish Art and Design
Jane Cavanough Artlandish Art and Design produces site specific public art that is a union of both classic and contemporary design, interactive, low maintenance with long lasting beauty.
Director Jane Cavanough has degrees in both Landscape Architecture and Visual Arts. She is the recipient of a Churchill Fellowship, and has played an integral design role in winning both an international and invitational competitions.
Jane works both soley and in design teams for local and state government, developers such as Urban Growth NSW, statutory bodies such as Centennial Parklands as well as Landscape Architecture and Architecture firms, to develop each project from concept through to documentation. Artworks are fabricated by a dedicated group of specialist artisan fabricators and bespoke manufacturers from a brand palette of materials including glass, LED lighting, forged, stainless and mild steel, copper, bronze, brass, cast concrete, stone, timber, mist and water.
Her strength is creating artworks that have a strong relationship to the site in urban, architectural and landscape settings. Passionate about the relationship between people, sculpture and landscape, the epicentre of Jane's artwork is interpreting the environmental and cultural aspects of each project site.
To date, Jane has supplied artworks for playgrounds, placemaking, wayfinding, urban features and memorials with budgets ranging from $30 000 to $3 million.
Scholarships and Awards
2020 NSW architecture awards I Sustainable Architecture: Arkadia by DKO, Breathe, Oculus, and artist Jane Cavanough
2020 NSW Architecture Awards I Peoples Choice Awards for Life in 2020: Isolation Crisis: Arkadia by DKO, Breathe, Oculus, and artist Jane Cavanough
2020 NSW Landscape Architecture Award: Project site Arkadia Apartments in Alexandria, Gardens designed by Oculus and Jane's sculpture Natus Ex Igne: Born from Fire, features in the forecourt.
2020 NSW Landscape Architecture Awards: Paperbark Playspace, located Parramatta Park. Project Artist Jane Cavanough, with Phillips Marler.
2015 AILA Register of Landscapes of National Significance: Centennial Park Wetlands. Project Artist Jane Cavanough
2013 Register of Military Monuments of National Significance: The Korean War Memorial, designed by Jane Cavanough and Steven Hammond (Group GSA).
2003 Churchill Fellowship looking at the relationship between sculpture, Community and Landscape in Europe/UK.
1998 Australian Institute of Landscape Architects, "Best Landscape Rehabilitation" for the Wetlands in Centennial Park, Sydney, designed by Context Landscape Design, Project Artist Jane Cavanough
1992 Basil and Muriel Hooper Scholarship, The Art Gallery of NSW, for outstanding emerging artists.
Jane Cavanough (Artlandish) has completed several public artworks in the City of Parramatta region. They are works of the highest quality, and produced with selfsufficiency, professionally managed in all respects and with little fuss. They are also works of beauty and power, ideally suited to purpose and location.
George Mannix , City Animation City of Parramatta
Jane Cavanough's art is beautiful, innovative and original. Jane has a creative understanding of the way people use community spaces and her work is enjoyed by people of all ages and backgrounds. She designs and fabricates to the highest standards and her professionalism makes her easy to work with on the most demanding projects.
Marla Guppy, Guppy and Associates
Jane Cavanough has delivered beautiful site-specific public artworks suited to their location, function and place. Jane has an understanding of the opportunities and constraints of commissioning and managing public art in the municipal environment, and she creates works purposing materials suitable for long-term placement that show sensitivity to the subject, respectful and interesting story-telling, and understanding of placement within a park/ playground. A key aspect of Jane's success is her ability to listen to her client and willingness to respond to suggestion and direction.
Emily Forrest, Bankstown City Council
Jane Cavanough's vast experience in public art made her a delight to work with. From the concept design during the EOI phase, to the finished piece of art, Jane has been the ultimate professional. Despite some internal challenges and changes, Jane took it all in her stride and worked with us to produce a very successful outcome at 98 Auburn Street. We commend Jane to you and trust that you will enjoy working with her, as we did.
Sarah Ruberto, Goulburn Mulwaree Council